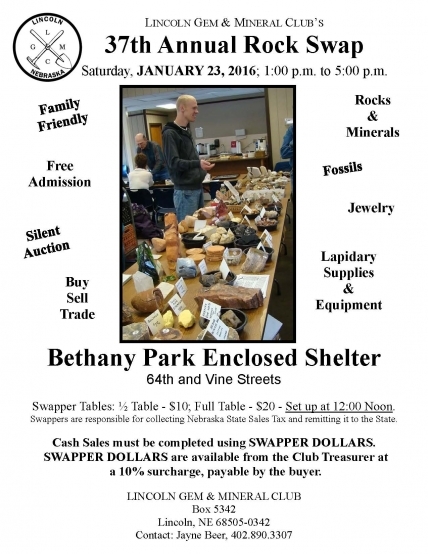 General Meetings

Bethany Park Shelter House
Youth Meeting: 6:00 p.m.
Adult Meeting: 7:00 p.m.

Thursday, November 19, 2015 (Annual Business Meeting)


Sunday, December 6, 2015 (Christmas Party)
5:00 p.m. - Youth Group/Senior Mentor Project
6:00 p.m. - Potluck Supper (Club to provide fried chicken and beverages. Bring a hot and a cold dish.)
7:00 p.m. - Brief meeting, followed by Awards Ceremony
Finally, ROCK BINGO!! (Bring Bingo prizes)
To participate in gift exchange, bring a male or female gift; spend no more than $10.


We welcome all visitors!

If you want to discover more about Nebraska's geology,
check out these publications authored/co-authored
by long-time LGMC member, Roger K. Pabian.


Record in Rock Minerals & Gemstones of Nebraska

Membership

Individual - $15 per year
Couple - $25 per year
Youth (age 15 and under) - $ 2 per year (with responsible adult)

Member of the American Federation of Mineralogical Societies

Member of the Midwest Federation of Mineralogical and Geological Societies

Member of the Nebraska Association of Earth Science Clubs, Inc.

Member of American Lands Access Association, Inc.